Log Home Restoration
One of the most exciting aspects of remodeling your home or business is adding your signature touches to make the statement that you want to make. That all begins to happen when we work together to assist you selecting your finishing options. This is where you begin to see the home or business coming together. With countless exterior and interior colors, siding, shutters, trim, fireplaces, sun rooms, deck, cabinets, garage, and front entry doors and a diverse mix of various stone and brick options. Lets get started.
Let us take your old boring siding off and give your home a face lift. With our half log products we can take your normal siding and convert your home to a northwooods log home.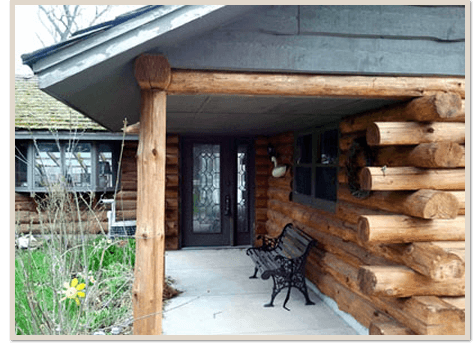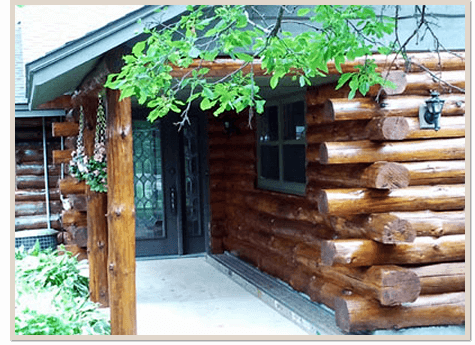 Log Home Restoration Services
We begin with a log home inspection to see what items will need restoration and repaired. We provide log restoration services to home owners, commercial properties such as resorts, hotels and other commercial buildings. Below are some of the recognized restoration services we provide.
• Clean & Stain
• Cobb Blasting
• Chemically Cleaning
• Bug Treatments
• Deck Cleaning & Sealing
• Cedar Siding Cleaning & Staining
• New Construction Cleaning & Staining
• Log Home Chinking
• Caulking
• Log Replacements and Repairs
Log Home Staining - Sikkens Dealer Applicator
We believe there are many stain companies out there. The one product we really enjoy using is of course the Sikkens line. They have a product that is second to none in our eyes. It is a product that keeps your home or any wood surface protected. When a home is properly prepped and stained it is so much easier to clean and do up keep; not to mention that Sikkens has a shine that they are so famous for.
Perma-Chink
We really trust our products and when we chink a log home or log cabin we use Perma-Chink. Perma-Chink is a flexible, textured chinking that seals the open gaps between logs to eliminate heat loss and air infiltration. Even though it looks and feels like traditional mortar, it's not. Perma-Chink is a pure acrylic that adheres to logs and stretches to maintain a tight seal by following log movement.