Log Home Cabin Builders
We understand here at The Log Home Doctors that there are a lot of decisions to make when building a new home or business. Your great experience should starts with choosing the right builder and the perfect Log package from one of our several options. We are a dealer for Hiawatha Log Homes. The great news is that you've already made a smart choice by visiting our website. The Log Home Doctors can assist you with your new Log Home, Log Cabin, Log Storefront,or Log build out. The Log Home Doctors staff has taken the complicated process and turned it into something that is very simple, predictable and even very enjoyable. Our Job is to deliver the dream here at the Log Home Doctors llc. Let us start helping you now.
We thank our staff for putting together what we believe is purely a top rated Log Home Company we use products that are selected for each individual project to meet your needs. We have built many Log Homes for several company's and find that the Log Home Doctors only want to use best of grade materials such as our own Kiln dried logs and Log siding products. We are equipped to be your one stop shop. You will never see any two log Homes exactly alike. Everyone is one of a kind Log Home, Log Cabin, Ranch or Log Convention Center. We build what and the way you prefer it. We could make it a one room rustic style, or a 10,000 sq ft very elegant Log Home; your choice.
Minnesota Residential Log Home Cabin Builder
We do everything from your smallest projects to your largest projects. We believe there is no Log Home or Log Cabin to small or to big for us here at The Log Home Doctors. Can you imagine your self relaxing here with a fire crackling and the snow falling out side or overlooking your beautiful view of your choice.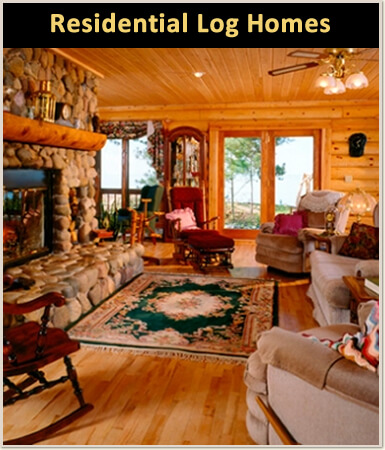 ---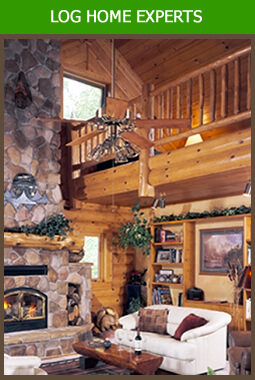 Log Estates or Ranches
These Ideas can be added to your new Log Home, Log Cabin, Log Horse Barn. Log is naturally beautiful to most people it gives that warm home like Log Home or Log Cabin feel. You can have a Estate that says welcome home.
Commercial Log Home Building Minnesota
Our job for your business is to transform your new or old offices into a great exciting and inviting place to perform your job. We will be efficient getting your project done with the least interruptions possible to keep your business moving along as usual without any down time.
Timber Framed Homes
These are beautiful homes with a flair that some home owners just have to have. They stand alone and their design speaks for itself. So let us help you at the Log Home Doctors design yours for you.
Sun Rooms
What a great way to add nature to your home. Enjoy sunrises in the morning and relax at night after a hard day at work in your new sunroom.
Decks
We can add anything from a small entryway to a large addition such as decks, patios, and much much more.
Post and Beam Structures
These homes catch your eyes. They are bold and beautiful!
Areas of Log Home/Cabin Building Services near me
The Log Home Doctors works in the following areas Iowa, Minnesota, Michigan, Illinois and the upper Midwest.